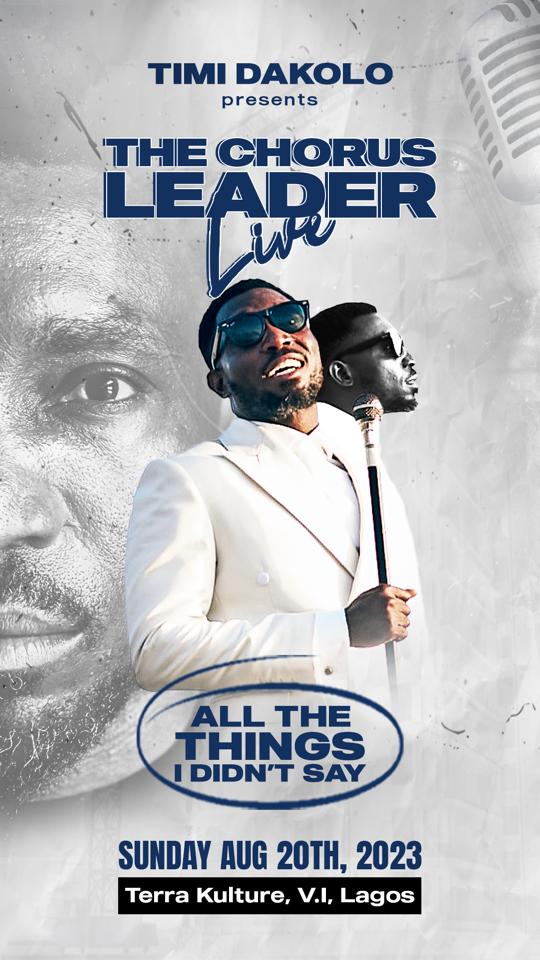 The Chorus Leader Live: All The Things I Didn't Say

| | |
| --- | --- |
| | Timi Dakolo |
| | August 20, 2023 |
| | 4:10 pm |
| | Lagos, Nigeria |
| | Terra Kulture |
| | Google Map |
Buy Tickets
Learn More
Join us for an enchanting evening of musical brilliance at "The Chorus Leader Concert"! Prepare to be captivated by the harmonious voices of our talented performers as they take center stage and lead us on a mesmerizing musical journey.
Immerse yourself in the grandeur of this extraordinary event, where the power and passion of choral music come alive. From breathtaking classical masterpieces to contemporary arrangements, the repertoire will encompass a diverse range of styles, ensuring a truly unforgettable experience for every music enthusiast.
The Chorus Leader Concert brings together a remarkable ensemble of vocalists who possess an unrivaled ability to unite their voices in perfect harmony. Led by a seasoned conductor renowned for their exceptional artistry, this concert promises to showcase the remarkable talents of each singer, accentuated by seamless coordination and expressive interpretations.
Our venue provides an intimate and acoustically rich setting, allowing the music to resonate deeply within your soul. As the soaring melodies and stirring rhythms fill the air, you will find yourself swept away by the sheer beauty and emotional depth of the performances.
Whether you are a seasoned music lover or a newcomer to the world of choral music, "The Chorus Leader Concert" is an event not to be missed. Join us for an evening of enchantment and be transported by the transcendent power of the human voice.
Save the date and mark your calendars for this extraordinary musical extravaganza. Prepare to be spellbound by "The Chorus Leader Concert" and create cherished memories that will resonate with you long after the final notes have faded.